Despite Non-Tender and Big Struggles, There's Hope for a Bellinger Revival
The 2023 free-agent market is crawling with former league MVPs. The recently crowned Aaron Judge is coming off one of the best position player seasons in recent memory. Multiple contenders have already checked in with 2020 AL winner Jose Abreu, who at age 35 is still quite a productive hitter. The 2011 AL MVP, Justin Verlander, is about to turn 40 but is nonetheless one of the top pitching targets available after an unanimous third Cy Young Award season. Andrew McCutchen seems to have played a thousand careers since his MVP win in 2013 and is on the lookout for a new home after playing out a one-year deal in Milwaukee. And then there's the youngest of the bunch, 27-year-old Cody Bellinger, who was non-tendered by the Dodgers last Friday nearly three years to the day after his crowning as the 2019 NL MVP. The centerfielder was projected by MLB Trade Rumors to earn around $18.1 million in his final arbitration year in 2023; Instead, with a high ceiling at a relatively low cost, he'll be the archetype of a bounceback candidate wherever he lands.
Bellinger's struggles since his MVP campaign have been well documented. After a mediocre follow-up season in the COVID-shortened 2020, his production dropped dramatically in '21, as he hit .165/.240/.302 and was one of 16 players to finish with -1.0 WAR. He's battled a string of injuries in that period, too, including multiple shoulder dislocations and a fractured left fibula, that led to missed time and a steep decline in contact quality and production; his wOBA fell from .414 in 2019 to .337 in '20 to .237 in '21.
Cody Bellinger Career Stats
| Season | Team | Age | PA | AVG | OBP | SLG | wOBA | wRC+ | WAR |
| --- | --- | --- | --- | --- | --- | --- | --- | --- | --- |
| 2017 | LAD | 21 | 548 | .267 | .352 | .581 | .380 | 138 | 3.9 |
| 2018 | LAD | 22 | 632 | .260 | .343 | .470 | .345 | 120 | 3.5 |
| 2019 | LAD | 23 | 660 | .305 | .406 | .629 | .415 | 161 | 7.7 |
| 2020 | LAD | 24 | 243 | .239 | .333 | .455 | .337 | 112 | 1.4 |
| 2021 | LAD | 25 | three hundred fifty | .165 | .240 | .302 | .237 | 47 | -1.0 |
| 2022 | LAD | 26 | 550 | .210 | .265 | .389 | .284 | 83 | 1.7 |
In 2022, Bellinger reversed the course of the drop in production, though he was still significantly below average offensively, with an 83 wRC+ and .284 wOBA in 144 games. On the plus side, his average exit velocity ticked up from the 48th percentile to the 57th, and he hit the ball harder more often, with his barrel percentage increasing from 7.1% to 8.3% and his hard-hit percentage rising from 30.8% to 34.7%. After dropping over six percentage points from 2020 to '21, his contact rate bounced back from 72.3% to 76.0%. Yes, he was coming off a nadir career in '21, and his '22 numbers are still hardly reminiscent of '19, but his improvements were not insignificant; his .047 increase in wOBA and .087 increase in slugging were each fifth among qualifiers. As far as he is still from his 2019 peak, he was a lot better at the plate this year than last, enough to swing him from a -1.0 WAR player to 1.7 in 2022.
Bellinger from 2021 to 2022
| Metric | 2021 | 2022 |
| --- | --- | --- |
| WAR | -1.0 | 1.7 |
| wRC+ | 47 | 83 |
| wOBA | .237 | .284 |
| Barrel% | 7.1% | 8.3% |
| Hard% | 30.8% | 34.7% |
| Contact% | 72.3% | 76.0% |
| SwStr% | 14.2% | 12.0% |
That he was able to produce nearly 2.0 WAR with a wRC+ of 83 underscores the value of a player like Bellinger. Ever since he made the improbable shift from first base to center field, he's been a capable defender at a premium position. He's graded most favorably by the OAA, at +6 this season and +13 since 2020. UZR and DRS found him average this year but agree that he's been a plus defender over his career at center, including during his Gold Glove 2019 season. Add to that some significant baserunning contributions — his 4.5 runs above average had him in the top 20 in the league this year — and Bellinger demonstrated an ability to generate value even when struggling at the plate. We may have seen his floor in 2021, but if he's able to remain healthy and productive in the field and on the base paths, this version of Bellinger can be a useful player even if he never returns to the offensive force he was in 2019.
And that's all before we consider the upside. The real temptation with signing a player like Bellinger is the chance, however slim it may seem now, that he'll be able to return to his MVP form, or somewhere close. The further we get from that season, the more unlikely it seems; In August, Dan Szymborski noted that the projections gave Bellinger just a 65% chance of posting a wRC+ over 100 again. But given a change of scenery and some sense of a fresh start, there's still room for adjustments to be made by the 27-year-old that could put him somewhere in the broad gap between the 1.7-WAR player Steamer projects for him to be in. 2023 and the 7.7-War MVP of three years ago.
One potential area of ​​improvement: he's still swinging the bat a lot more than he used to, which Jay Jaffe pointed to earlier this year as an indication of pressing at the plate. His swing rate came down to a percentage point and a half to 49.8% in 2022, but remained elevated from his 2017-19 average of 44.6%. His strikeout rate ticked up, and his walking rate continued to fall, hitting a career-low at 6.9%. Pitchers took an aggressive approach against him, tossing first-pitch strikes 60.2% of the time and putting pitches in the zone 42.7% of the time – the latter up 2.7 points from '21. But Bellinger was much better at getting to those balls, improving by nearly four percentage points to an 80.9% contact rate on pitches in the zone. His chase percentage and swing-strike percentage, meanwhile, came down after upticks in the last two seasons. All told, his plate discipline, and by extending his production, marked somewhat of a recovery from a rough 2021, and if he's able to continue that more patient approach next season, that could yield more productive returns.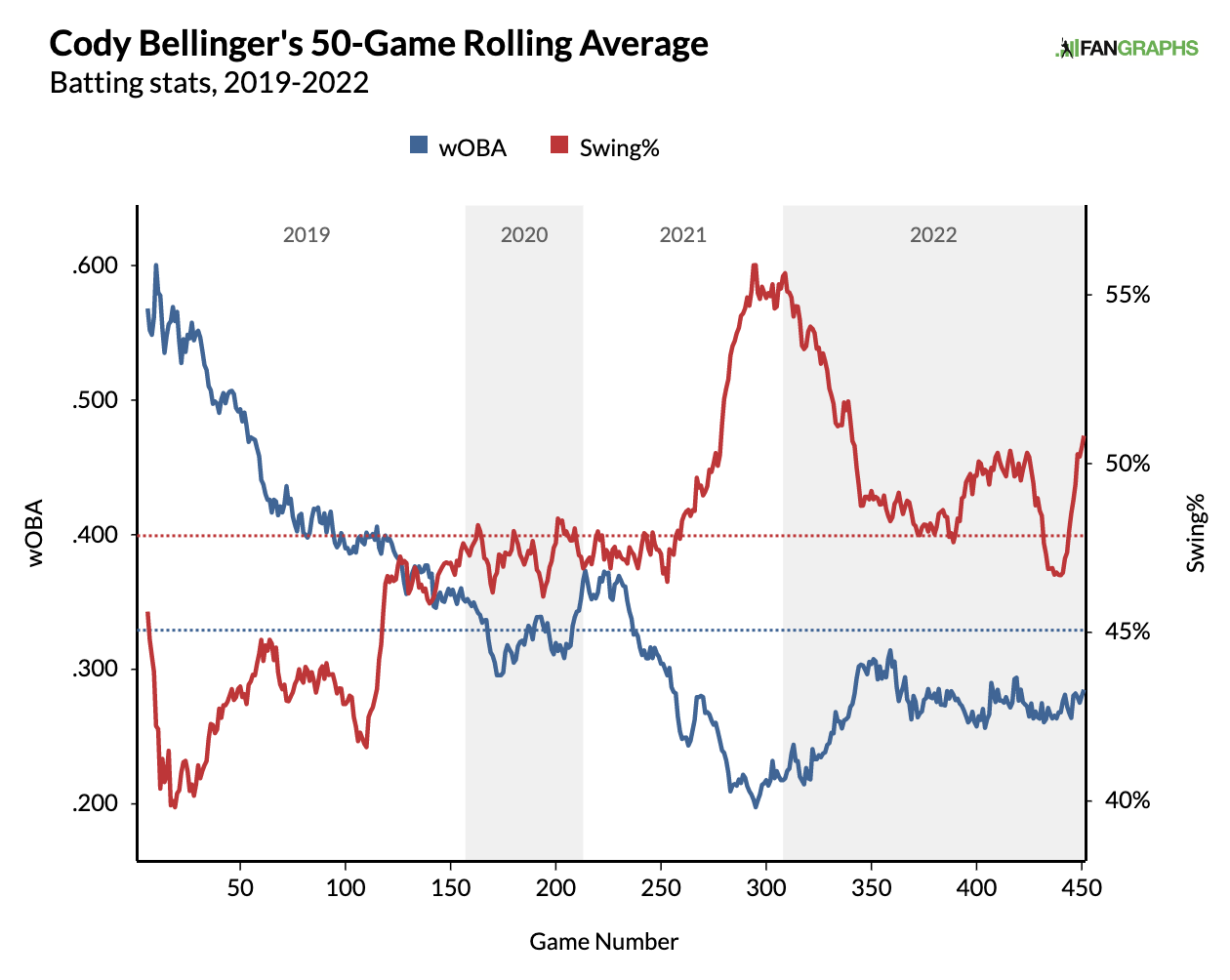 Another reason to take a flier on Bellinger? While it's not easy to say exactly what kind of league-wide effect banning the shift will have, he has been one of the most shifted hitters in the majors for years now. In 2022, he faced an overloaded infield in 90.5% of his plate appearances, and his .302 wOBA in 52 PA with the shift off was nearly 20 points higher than his wOBA with it on. Nearly everything Bellinger hits on the ground goes to the pull side, and next season, teams will only be allowed two fielders to knock those down instead of three. Is this going to turn him back into the 47-homer MVP of 2019? No, but it could help a good baserunner get on base more often, and that's added value.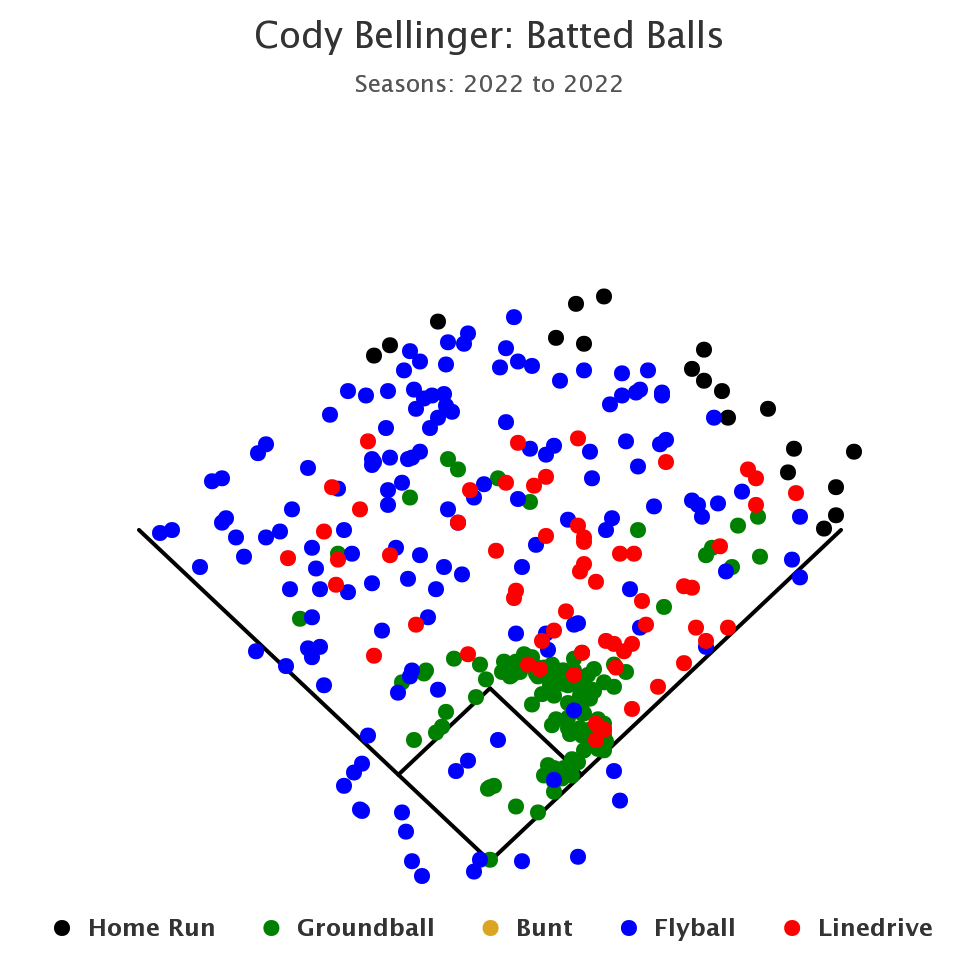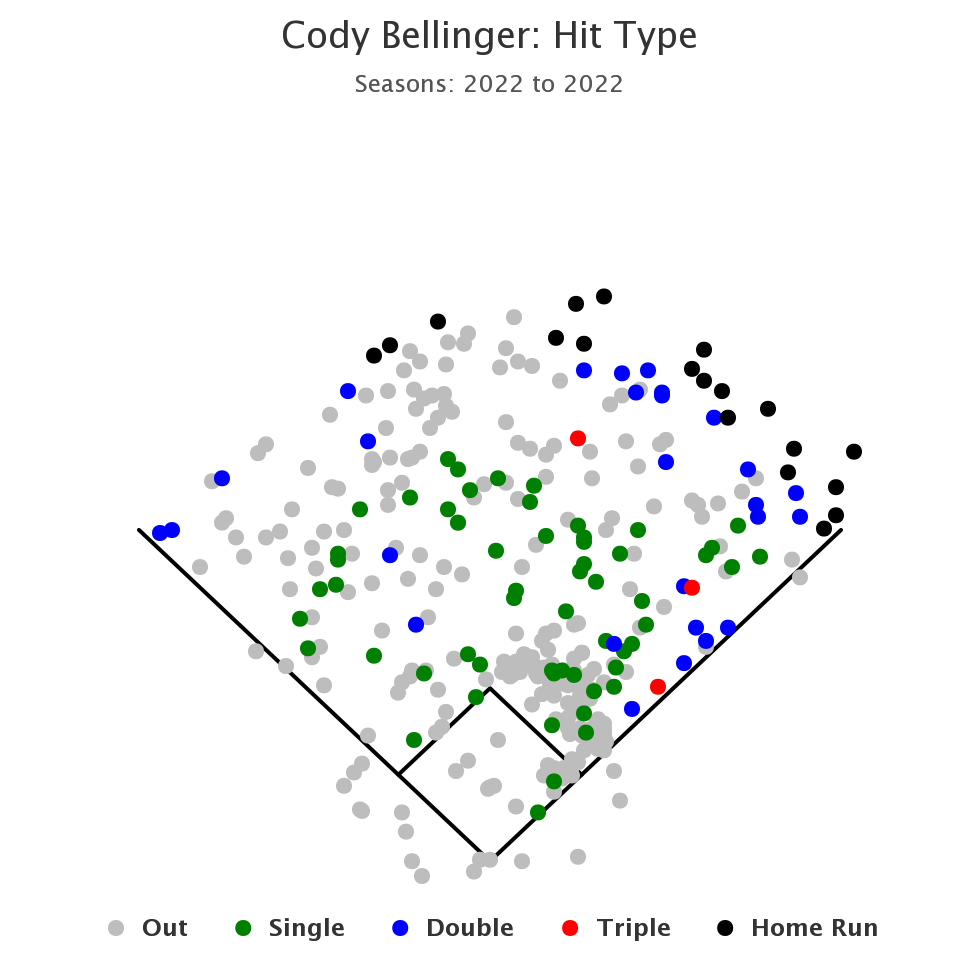 Bellinger's agent Scott Boras told The Athletic's Ken Rosenthal on Sunday that his camp has already received multi-year offers, but they're more interested in a one-year deal to give him the chance to re-enter a free agency at the age of 28. , hopefully having reassured some teams of his capabilities. A team that signs on to a bounceback candidate like Bellinger for a contract like that might be looking for somewhat of a bounceback itself. MLB Network's Jon Morosi reports that the Blue Jays, who recently dealt an outfielder in Teoscar Hernández, have interest in adding him to a righty-heavy lineup in a homer-friendly stadium. The Giants, who underwhelmed in 2022 after overwhelming in '21, are said to be in the mix, too, according to the San Francisco Chronicle's Susan Slusser. All in all, according to Jon Becker's Free Agent Matrix, as many as nine teams have been reported to have some level of interest in Bellinger so far, just five days after his free agency was announced. That's some crowd for a non-tender.
The broad interest in Bellinger's services raises the question of just how much he can garner on a one-year deal. Per Rosenthal's reporting, Dodgers president of baseball operations Andrew Friedman explored a trade prior to the non-tender, which suggests that he won't be able to reach what he would have in arbitration, but I think it's reasonable that with such robust interest this early in the winter and a scarcity of capable centerfielders, he could end up in the $10–12 million range projected for fellow comeback candidate Michael Conforto and Michael Brantley, neither of whom seem to have excited as much chatter in the early days of free agency . Glove-first centerfielder Kevin Kiermaier is projected by Ben Clemens and our crowdsourcing to earn between $16-20 million over two years; Given Bellinger's offensive upside, he may get those looks first. Struggles aside, a 27-year-old former MVP is available on the open market for a reasonable price, and teams are taking notice.