Kobe Bryant, Who Earned $320 Million in His Career, Was Jealous of Former Teammate Shaquille O'Neal's Salary, According to Coach Phil Jackson
Kobe Bryant and Shaquille O'Neal formed one of the deadliest duos in NBA history. The Los Angeles Lakers won three championships in a row as they established themselves as a modern dynasty. However, things weren't always great between the two legends and it eventually resulted in an infamous breakup of the whole roster.
Phil Jackson, who guided the franchise to those titles, followed O'Neal in leaving the Lakers in 2004. The 2003-04 season proved to be a tumultuous year for everyone involved with the Lakers franchise. While O'Neal was the clear star during their championship runs, Kobe had taken over by the time everything fell apart.
ADVERTISEMENT
Article continues below this ad
Jackson mentioned in his book how Kobe Bryant and Shaquille O'Neal's feud resulted in the downfall of the Lakers. According to Jackson, the animosity between the pair arose because of the salary difference. While O'Neal was earning around $25 million a year, Bryant earned $10 million lesser than him.
Jackson alleged that Bryant knew he would never be able to make the kind of money O'Neal did. However, that wasn't the case as Bryant would eventually earn more than Shaq did in his career. Jackson also mentioned that Bryant had voted against the labor agreement at the time because he placed a cap on salaries.
DIVE DEEPER
This was just one of the many reasons things broke down between the pair. While things didn't end well for them in LA, they are more than made up later on in their careers. The duo always had immense respect for each other and O'Neal was a speaker at Bryant's eulogy after the latter's tragic demise.
Kobe Bryant and Shaquille O'Neal terrorized defenses
ADVERTISEMENT
Article continues below this ad
Even though the duo had animosity between them, they rarely let it show on the court. After Jackson's appointment as head coach in 1999, the Los Angeles Lakers won three straight championships. O'Neal established himself as an all-time great with historic performances in that three year phase.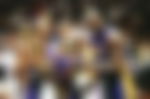 Meanwhile, Bryant improved drastically and became one of the best young players in the league. Both of them have mentioned that the Lakers would have won much more had the two sorted their issues out.
ADVERTISEMENT
Article continues below this ad
WATCH THIS STORY: Kobe Bryant's best Lakers teammates featuring Shaquille O'Neal and Pau Gasol
While O'Neal's playing regressed rather quickly, Bryant's star rose rapidly as well. He ended up winning one more championship than O'Neal and finished his career as one of the greatest players of all time.