Mac mini Review – MacRumors
Apple's new Mac mini models will start arriving to customers and launch in stores this Tuesday. Ahead of time, the first reviews of the desktop computer have been shared by select media publications and YouTube channels.

The new Mac mini is available with new M2 and M2 Pro chip options. There are no major design changes, but the M2 Pro version of the Mac mini is equipped with four Thunderbolt 4 ports and an HDMI 2.1 port, compared to two Thunderbolt 4 ports and HDMI 2.0 on the M2 model. Other upgraded specs include Wi-Fi 6E and Bluetooth 5.3.
The new Mac mini can be pre-ordered now on Apple's online store, with the M2 model starting at a lower $599 price and the M2 Pro model starting at $1,299.
Written Reviews
Dan Moren shared benchmarks for the Mac mini with the M2 Pro chip in his Six Colors review: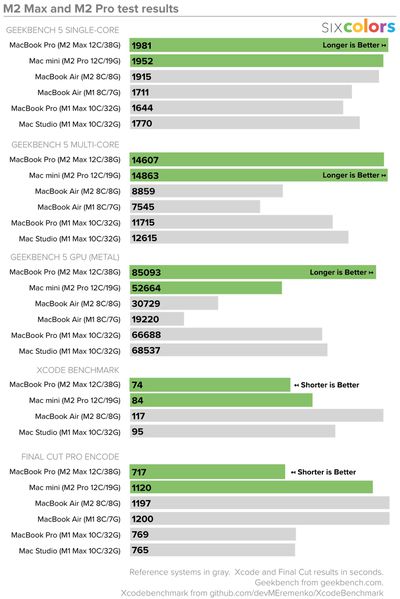 Moren said the fan inside the M2 Pro model is incredibly quiet:
Oh, and since I know fan noise is of particular concern to segments of the market that might be interested in the M2 Pro mini, I'll say this: I could not hear the machine's fan. Ever. I fired up all the cores and left them going for a while, and still nothing. I held my Apple Watch's decibel reader near the back of the mini, and I noticed no appreciable change. I even installed Fanny, an app that reports fan data, to make sure there was indeed a fan inside. (There it is, but apparently it is very quiet.) Apple's not blowing smoke when it says low power consumption is a cornerstone of how it develops its chips.
The Verge's Chris Welch said "Apple's littlest Mac has never been more appealing" and said the performance improvements offered by the M2 and M2 Pro chip options make the Mac mini a good compromise between an iMac and the far more expensive Mac Studio:
If you've been waiting for the in-betweener Mac that's more capable than the iMac and less exorbitant than the Mac Studio, look no further. The new Mac Mini is still small and not the type of computer that calls attention to itself on your desk, but it's never been more powerful.
Welch said the increased performance makes the Mac mini worthy of a "Mac Studio junior" title:
So far, it's been an absolute screamer worthy of the "Mac Studio junior" moniker — and then some. In benchmarks, its Cinebench single-core and multicore CPU scores bested last year's M1 Max MacBook Pro. And the added GPU cores over the standard M2 made a noticeable difference when exporting 4K footage or gaming. As our Shadow of the Tomb Raider benchmark shows, that graphics horsepower isn't quite on the level of Apple's Max chips since they have even more GPU cores to spare. But it's a big step up from what the standard M2 Mini, MacBook Air, and 13-inch MacBook Pro are capable of.
Ars Technica's Andrew Cunningham did wish the new Mac mini had ports on the front of the computer like the Mac Studio, and he said pricing for higher-end configurations can end up being equal to an entry-level Mac Studio:
I wish the new minis had ports on the front, as the Studios do. And pricing is still on the high side for the M2 Pro version. If you upgrade to the fully enabled 12-core M2 Pro and 32GB of RAM, the new mini costs $1,999, the same amount as a (mostly more-powerful) entry-level Mac Studio with the same amount of memory and storage, more ports , and 10 gigabit Ethernet.
TechCrunch's Matt Burns said M2 Pro performance lives up to the hype:
I threw everything in my daily rotation at the M2 Pro, and it never blinked. It zoomed through media encoding and heavy photo editing. It conquered benchmarks and put up with Chrome's never-ending quest for system memory. It's been a joy to use.
More Written Reviews
Video reviews and unboxings
.