Shaquille O'Neal, Owner of a 70,000 sq ft Mansion, Was Inspired to Defy His Own Father As an Emotional Tribute to Him: "Never Be Satisfied"
Behind every successful individual, there is always someone who cheers for them. They motivate their loved ones to reach the height of success that many people dream to achieve. For Shaquille, it was his mother and stepfather Phillip Arthur Harrison. Harrison was a retired US Army sergeant, so he was all about tough love and discipline. In fact, his way of raising his son proved to be effective as Shaq went on to become an NBA star who now has the ability to buy 70,000 square feet mansions despite coming from humble beginnings. During his NBA playing career, Shaquille O'Neal won four NBA championships, three NBA Finals MVPs, 15 NBA All-Star selections, and multiple other accolades.
Shaq always referred to Harrison as his father, rather than step-father. On several occasions and events, O'Neal has credited Harrison for his success. During many episodes of Shaq's podcast, he talked about his father, Sergeant Harrison, and the impact he had on his life.
ADVERTISEMENT
Article continues below this ad
DIVE DEEPER
Shaq revealed that Harrison had once slapped him in front of a crowd and that had led the furious Shaq to play better. Similarly, in a podcast episode of Oprah's Master Class, Shaq told how Harrison taught him to never settle.
Shaquille O'Neal revealed why he doesn't settle for anything less
In the podcast, Shaq revealed that he had given all of his championship rings to his father. He recalled that the first time he had won the championship, his father had casually dismissed it saying it was 'cool'. Harrison then asked if Shaq could get another ring. After winning the second ring, Harrison challenged him to get 'Another one'. This eventually motivated Shaq to win four championships.
When Shaq won his fourth championship, he revealed that it was the first time he had seen his father cry. His father did not praise him or complimented him. Instead, all he did was thank Shaq for listening to him. The former Lakers player further added that his father would remove all the trophies he won as a kid. Eventually, when Shaq grew up, he saw the box of trophies he won in his younger years.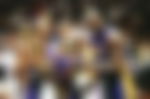 Initially, the Big Diesel didn't have the courage to ask his drill sergeant father for an explanation. As a child, he wasn't allowed to question his disciplinarian father. However, much later, he defied the intimidation of his father's personality and asked him about it.
ADVERTISEMENT
Article continues below this ad
"I didn't want you to look at them and be satisfied. Go get another one. Go get another trophy. I never want you to be satisfied," Harrison told Shaq.
He further added "You got one, I want you to get two. You get two, I want you to just keep going, keep doing it till you can't do it no more."
Watch this Story: Bill Russell Career: When Did The Celtics Legend Retire?
ADVERTISEMENT
Article continues below this ad
"Never be satisfied," was the lesson that Shaq learned from his father. The Lakers legend also revealed that after Harrison passed away, he got all his trophies and dedicated a room in his father's honor.