"There Is…a Dark Side to Him": Millionaire Hollywood Director Admits Michael Jordan Inspiration for Oscar Winning Actor Nicolas Cage
Throughout his basketball career, Michael Jordan has served as an inspiration to millions of fans and continues to do so. From the very first game Jordan played to the day he played his last game in the league, he strived to establish his dominance on the court. His skills and achievements have defined him to be one of the best players in NBA history. Such had become his legacy that to date, arguably every basketball player is compared to him.
Over the years, Jordan has had numerous off-court projects as well. From brand endorsements to business deals and charity works. Jordan also boasts of several documents based on his career and team. "His Airness" even had a comedy movie released in 1996 called Space Jam, where he had played himself.
ADVERTISEMENT
Article continues below this ad
DIVE DEEPER
So it was only a matter of time before a movie director came up with a character based on him. Reportedly, Michael Jordan was one of the two big names who inspired the lead character of Gabe Polsky's new movie.
Gabe Polsky drew inspiration from Michael Jordan
Hollywood director Gabe Polsky's latest movie 'Butcher's Crossing' had its world premiere at the 2022 Toronto International Film Festival. The movie stars Oscar-winning actor Nicolas Cage, who plays the role of a buffalo hunter. During an interview with Collider, Cage talked about the movie and what made him choose it. He revealed that his character portrayal was influenced by two stars, Marlon Brando and Michael Jordan. It is a little strange to think that a basketball player acted as an inspiration for a buffalo hunter, based in the 1800s.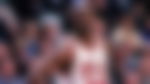 Cage further told that Polsky was inspired by Jordan's 'ferocious' nature of winning, no matter what. The director had even suggested Cage think about shaving his head for the movie. Cage added that his character's personality is loosely based on 'Jordan-Brando' combination.
ADVERTISEMENT
Article continues below this ad
Additionally, Director Gabe Polsky gave more context as to why he chose Michael Jordan as his inspiration.
"I think Michael Jordan [is the] greatest athlete ever, but there is kind of a – and he'll say it himself, you know – a sort of dark side to [him]. He would say that nobody can get on his way. He would say things to his teammates, and push them to their limits. A lot of people say he's kind of a dark guy," said Polsky, who has a net worth of $10 million.
Watch This Story: Top-5 players with most NBA Finals MVPs
ADVERTISEMENT
Article continues below this ad
He further added "And that intensity… So, I think there is kind of a darkness to that kind of intensity and ambition, and I always felt that from him, and that's why I wanted to talk to Nic [Cage] about Michael Jordan."
Well, it is a little clearer now as to what drew Polsky to the NBA legend. As of now, the trailer and release date of Butcher's Crossing is yet to be announced. But it will be rather interesting to watch Cage's performance in the movie, knowing that there is a 'little bit of Michael Jordan' in his character.